Ernst Wilhelm Nay is one of the most important artists belonging to the second generation of Modern Art.
With his oeuvre spanning the figurative to the abstract, he builds a bridge from Expressionism to the free setting of colour, which he mastered in the highest order.
In his late paintings, which even allow for associations with the figurative, the circle of this virtuosic oscillating work between figuration and abstraction closes. Within all its abstraction, in Nay's oeuvre man stands at the centre.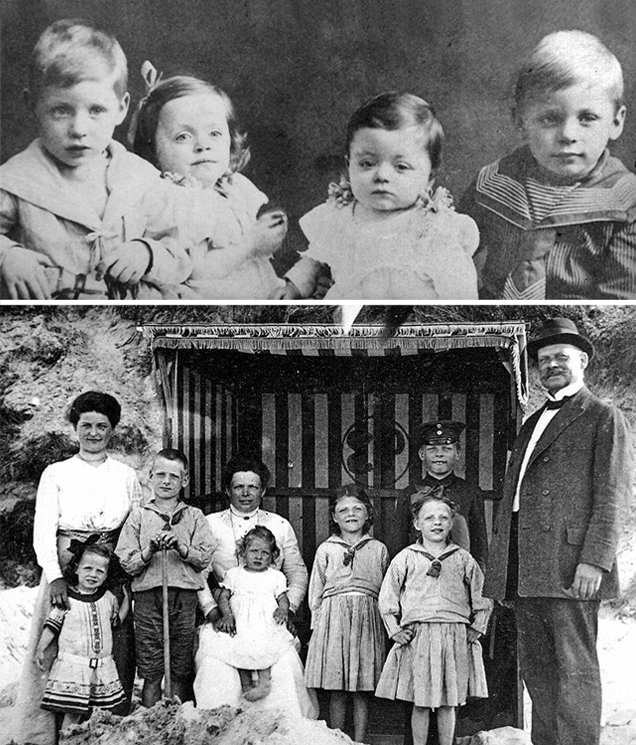 1902 Ernst Wilhelm Nay is born in Berlin on 11 June, the second of six children. His Parents are Johannes Nay, senior civil servant, and Elisabeth Nay, née Westphal.
1912 Attends the humanist Gymnasium in Berlin-Wilmersdorf.
1914 Nay's father, captain in the German army, falls in Belgium, aged 52.
1915 Nay enters the boarding school Schulpforta in Thuringia. First interest in modern art; first attempts at painting.
1921 Finalizes school with his high school diploma at Schulpforta. Nay begins a book trade apprenticeship in the Berlin bookshop Gsellius.
1922 Prematurely quits the book trade apprenticeship; first autodidactic landscapes and portraits.
1923 Nay attends an evening course in life drawing at the Berliner Kunstgewerbeschule and earns his living as a film extra at the UFA Studios, and, among other things, as salesman for books in the department store Kaufhaus des Westens.
1924 First portraits and landscapes. Nay approaches Karl Hofer at the Hochschule der Bildenden Künste with three of his autodidactic paintings.
1925 Hofer recognises Nay's talent and recommends his "Bildnis Franz Reuter" for the spring exhibition at the Preussische Akademie der Künste. Hofer provides Nay with a scholarship and takes him on in his painting class.
1926 First acquisitions of his works by museums in Lübeck and Hanover. Nay captures the attention of the editor of the magazine "Das Kunstblatt", Paul Westheim, who writes about him. Nay meets his future wife, Helene (Elly) Kirchner, a model for painters at the Hochschule der Bildenden Künste.
1928 Completion of his studies with Karl Hofer. Nay travels to Paris.
1930 Carl Georg Heise mediates an inhabitation for Nay in Bornholm, where he develops the "Strandbilder", of which one is acquired by the Nationalgalerie in Berlin.
1931 Nay receives the award of the Prussian Academy of Arts, which is linked with a nine-month scholarship at the Villa Massimo in Rome. There he creates small-format, surrealistic-abstract paintings.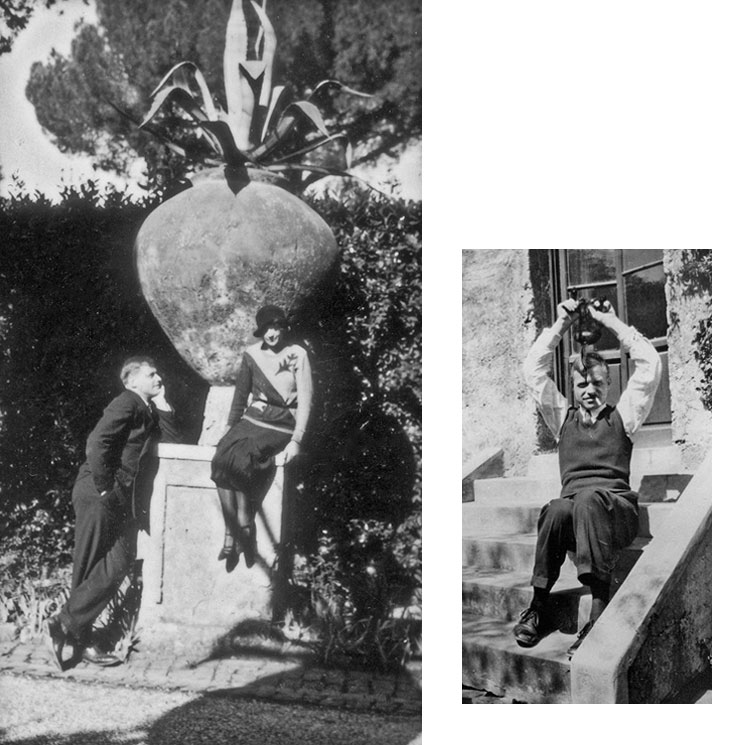 1932 Marriage to Helene (Elly) Kirchner. On his return trip from Rome to Berlin, he meets art dealer Günther Franke in Munich, who, from then on, promotes his art.
1933 Participation in the exhibition "Lebendige deutsche Kunst" at Alfred Flechtheim and Paul Cassirer galleries in Berlin. On 25 February 1933, an inflammatory article of the National Socialists in the fascist newspaper "Völkischer Beobachter" derides Nay's painting "Liebespaar" (1930) as "a masterpiece of vulgarity."
1934 Acquaintances with Erich Meyer, Alfred Hentzen, Werner Haftmann, and Ernst Gosebruch, former director of the Folkwang Museum who had been dismissed in 1933. Nay begins the work period of the "Dünen- und Fischerbilder" (1934–1936).
1935 Through mediation by Gosebruch, Nay gets to know the collector Carl Hagemann, Frankfurt am Main. During summer, Nay stays in the fishing village Vietzkerstrand, Baltic Sea (Pomerania), from where large-scale reed pen drawings – the so-called "Fischerzeichnungen" – emerge.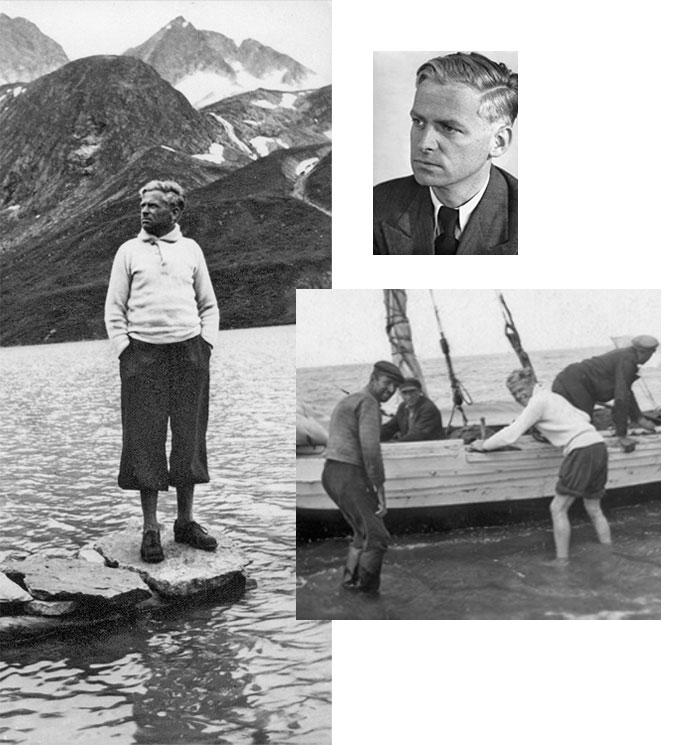 1936 Short trip to Sylt. Renewed stay in Vietzkerstrand; numerous further "Fischerzeichnungen."
1937 Nay is banned from exhibiting in Germany. "In the Degenerate Art" exhibition (shown in Munich, Berlin, Leipzig, Düsseldorf, and Dortmund), he is represented by two paintings. Ten of his works are confiscated from museum collections. Through mediation of the dismissed Lübeck museum director Carl Georg Heise, Nay receives financial support from Edvard Munch, allowing him to travel to Norway. He spends three months on the Lofoten Islands, where he paints large-format watercolours. In his Berlin studio, he later develops equivalent paintings – the "Lofoten-Bilder".
1938 In the winter of 1937/38 his Lofoten watercolours are exhibited at Holst Halvorsen Gallery in Oslo. Proceeds from the sale allow Nay to take a second trip to the Lofoten Islands. Again, he creates watercolours and, after his return to Berlin, also a series of four woodcuts as well as landscapes and figure paintings.
1939 Visits the collector Hanna Bekker vom Rath in Hofheim am Taunus, where he paints watercolours. Acquaintance with Alexej Jawlensky in Wiesbaden, whom he visits several times. Nay has to short-cut his trip to the Black Sea, Bulgaria, due to the outbreak of war.
1940 Nay is conscripted into military service. He is sent as infantryman first to southern France, then to Brittany. Stationed in Auray, in his spare time he works on small watercolours and drawings. During a holiday leave at home in Berlin, Nay sends most of his paintings to an uncle in Muskau an der Lausitz to protect them from the effects of the war.
1942 Through mediation by Hans Lühdorf, who is on duty as interpreter in Le Mans, Nay becomes a cartographer in Le Mans. There he meets, among others, the amateur sculptor Pierre de Térouanne, who makes available to him his studio and even provides painting materials. Now gouaches emerge for the first time, along with watercolours and drawings, and some smaller oil paintings.
1943 On an official journey to Paris Nay visits Wassily Kandinsky. Ernst Jünger visits him in Le Mans. An air raid destroys Nay's studio in Berlin.
1944 Nay's unit retreats from Amiens to the Eifel. Lühdorf writes a diary-like account of Nay's artistic work in Le Mans.
1945 As early as May the Americans dismiss Nay from the German army. Since his studio in Berlin is destroyed, he moves to Hofheim am Taunus into a small studio house, provided by Hanna Bekker vom Rath. Productive contacts occur with, for instance, Ernst Holzinger, director of the Städelsche Kunstinstitut, and the writer Fritz Usinger. Nay begins his work period of the "Hekate-Bilder" (1945–1948).
1946 First post-war exhibitions at Galerie Günther Franke in Munich and Gerd Rosen in Berlin. Encounter with Elisabeth Kerschbaumer, his future wife.
1947 Solo exhibitions at Galerie Vömel, Düsseldorf, Werner Rusche, Cologne, at the Kunstverein in Hamburg, the Overbeck-Gesellschaft in Lübeck, as well as at Galerie Franz in Berlin. Acquaintances made with the collectors Bernhard Sprengel, Herbert Kurz, and Karl Ströher.
1948 Participation at the Venice Biennale. Acquaintance with the collectors Günther and Carola Peill.
1949 Following an amicable divorce from Elly, Nay marries Elisabeth Kerschbaumer. In Worpswede, Nay produces his first major graphic series, ten colour lithographs, published by Michael Hertz in Bremen. Exhibitions occur at the Städtische Kunsthalle Mannheim (with Fritz Winter) as well as in Frankfurt am Main at the Kunstkabinett Hanna Bekker vom Rath.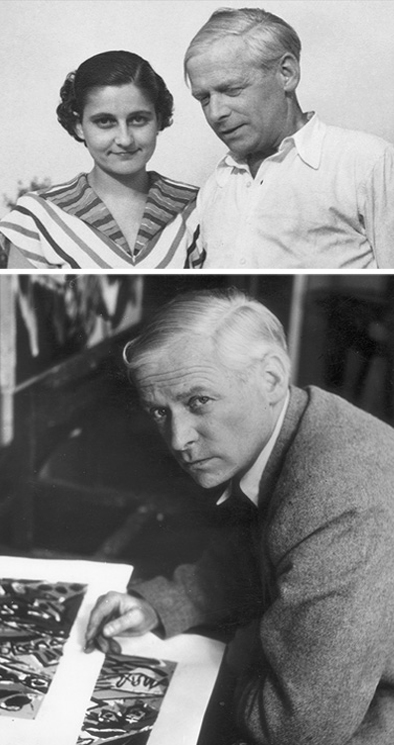 1950 First retrospective at the Kestner-Gesellschaft in Hanover.
1951 Back in Berlin for the first time, he meets the sculptor Hans Uhlmann and the art critic Will Grohmann, staying in close relationship with both. In October, he moves to Cologne, into a loft on Wiethasestrasse in Cologne-Braunsfeld.
1952 Nay begins the work period of the "Rhythmische Bilder" (1952–1953). Retrospective exhibition on the occasion of his fiftieth birthday at Haus am Waldsee in Berlin. Receives the Art Prize of the City of Cologne and the Karl Ströher Prize, Darmstadt.
1953 Nay, along with Jean Cocteau, Gino Severini, and Hans Erni, plots the abstract film "Eine Melodie – Vier Maler" (One Melody—Four Artists, directed by Herbert Seggelke). For three months during autumn, he is a guest lecturer at the Landeskunstschule Hamburg. Solo exhibitions at the Kunstverein für die Rheinlande und Westphalen, Düsseldorf, the Kunstverein Bremen, and at the Frankfurt Kunstverein, Steinernes Haus, Frankfurt am Main.
1954 Beginning of the work period of the "Scheibenbilder" (1954–1962), in which the circular shape of the disc is the dominant motif in all variations. During the summer, Nay stays in Løkken (Denmark), where he creates a series of large-format watercolours.
1955 Publication of the manifesto-like text "Vom Gestaltwert der Farbe". Nay is awarded the Lichtwark Prize of Hamburg. Participation at the documenta I in Kassel as well as at the Biennale in São Paulo. First exhibition at Kleemann Galleries in New York. Retrospective at the Kunstverein in Hamburg and at the Kestner-Gesellschaft, Hanover.
1956 Solo exhibition at the German Pavilion of the Venice Biennale. Nay paints a large mural "Das Freiburger Bild" (255 x 655 cm) for the Chemical Institute of the University of Freiburg. He is appointed a member of the Akademie der Künste in Berlin. Receives the Grand Prix of North Rhine-Westphalia for Painting.
1957 Stays in Crans sur Sierre in February where he creates watercolours. In Paris, he rents a studio and, at Georges Visat, prints a series of five coloured aquatints, published by Michael Hertz. Participates in the exhibition "German Art of the Twentieth Century" at The Museum of Modern Art in New York.
1960 Retrospective at the Kunsthalle Basel, curated by Arnold Rüdlinger. Publication of Werner Haftmann's Nay monograph. Nay receives the Guggenheim Price, New York (German Section). During summer, Nay paints watercolours in Ischia. Solo exhibition at the New London Gallery, London.
1961 Solo exhibition at Knoedler Gallery, New York. Meets art dealer Harry Brooks. Nay travels through the United States.
1962 Large retrospective for his sixtieth birthday at the Folkwang Museum in Essen. Second solo exhibition at Knoedler Gallery, New York. Nay travels to New York, Washington, and Boston.
1963 Nay begins the work period of the "Augenbilder" (1963–1964). Travels to the United States and Mexico. Visits Paul Westheim in Mexico City. Solo exhibition on occasion of the fortieth anniversary of Galerie Günther Franke, Munich.
1964 On Arnold Bode's proposal, Nay creates three large scale, so-called "documenta-Bilder", which are presented hanging on the ceiling at the documenta III in Kassel (now on permanent loan to the Federal Chancellery in Berlin). Solo exhibitions at Knoedler galleries in New York and in Paris. During summer, Nay paints watercolours in Mykonos. Futher solo exhibitions, including a special exhibit of drawings and watercolours at the "I. Internationale der Zeichnung" in Darmstadt.
1965 Starts the work period of the "Späte Bilder" (1965–1968). During summer, Nay creates watercolours in Crete. Solo exhibitions at Günther Franke in Munich and at Holst Halvorsen Gallery in Oslo. Nay prints the aquatint series "Über den Menschen" at Georges Visat in Paris.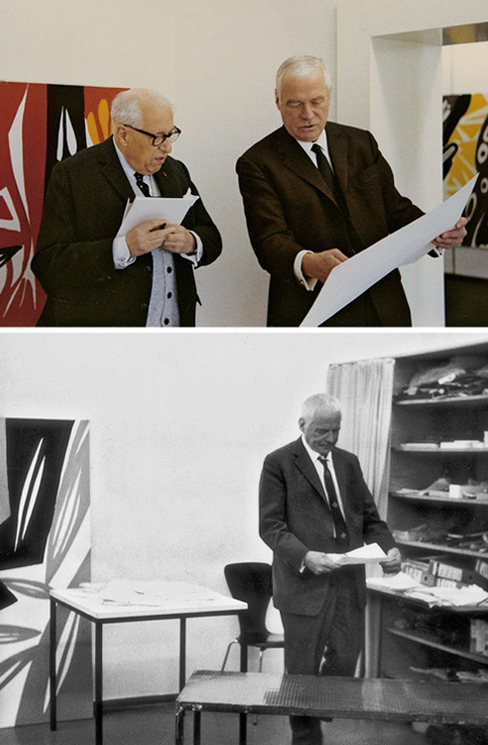 1966 Travels to Morocco, New York, Los Angeles, Hawaii, Japan, and Hong Kong. Large retrospective exhibition at the Württembergische Kunstverein in Stuttgart.
1967 Solo exhibition of recent paintings at Galerie Günther Franke in Munich and Galerie im Erker in St. Gallen. Prints four lithographs at Erker-Presse. Solo exhibitions at the Akademie der Künste in Berlin, the Städtische Kunsthalle Mannheim, and at the Museum des 20. Jahrhunderts in Vienna. Paints watercolours in Ronchi, Italy, in the summer. Receives the Grand Cross of Merit of the Federal Republic of Germany.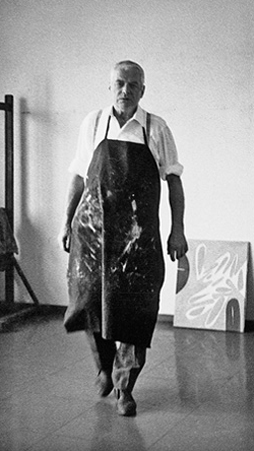 1968 In February, last trip to Berlin for the Uhlmann exhibition. Completion of the layouts for the huge ceramic mural "Keramisches Wandbild" for the Nuclear Research Center Karlsruhe (330 x 935 cm, workshop: Jörg von Manz). In early April, he creates his last painting "Weiss-Schwarz-Gelb".
On 8 April 1968 Ernst Wilhelm Nay dies of heart failure at his studio house in Cologne.