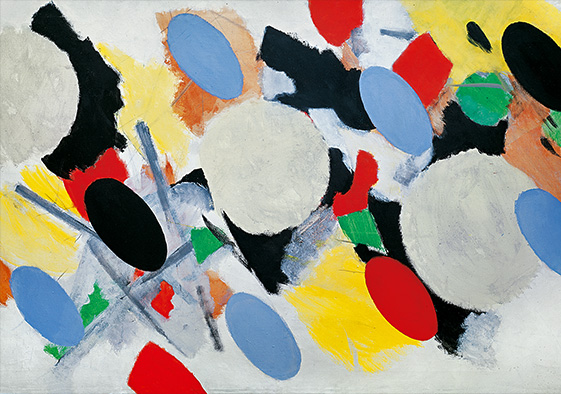 Ernst Wilhelm Nay is one of the most important artists belonging to the second generation of Modern Art. With his oeuvre spanning the figurative to the abstract, he builds a bridge from Expressionism to the free setting of colour, which he mastered in the highest order. In his late paintings, which even allow for associations with the figurative, the circle of this virtuosic oscillating work between figuration and abstraction closes. Within all its abstraction, in Nay's oeuvre man stands at the centre.
Watercolours, gouaches, drawings
Nay's oeuvre on paper with more than 6,000 watercolours, gouaches, and drawings is much more extensive in number than that of his paintings. As independent creations of equal rank, they embody something akin to the "diaries" of his artistic ideas, which he tirelessly put on paper. In their sheer serial variety and breadth of variation, they provide interesting insights into Nay's work and document, along with the oil paintings, the unfolding and the claim of the artist.
Introductory texts by Elisabeth Nay-Scheibler
Published in: Aurel Scheibler: Ernst Wilhelm Nay. Werkverzeichnis der Ölgemälde. 2 Bde. Köln 1990